The No-Limits Enterprise. Self-management from theory to practice
27 July 2020 @ 17:00

-

19:00
From a pioneer of self-management at Morning Star, a timely conversation for real world firms to thrive in the era of relentless change.
WHY TO PARTICIPATE
Opening our eyes to systemic impact.
People Revolution is a movement with the purpose of nurturing awareness, passion e responsibility for an interdependent evolution of individuals, organisations, society and environment.
Our events are meant to be:
Opportunities to learn about new perspectives – thanks to the contribution of international thought-leaders and practitioners
Safe spaces that inspire collective actions for a concrete change – through the possibility of interacting, posing questions, reasoning and going deeper on the presented topics both with speakers and among participants.
For a world in which business and humanity become one.
THE NO-LIMITS ENTERPRISE. SELF MANAGEMENT FROM THEORY TO PRACTICE.
According to Gallup's State of the Workplace, only 15% percent of workers are engaged at work world-wide, with a yearly cost in lost productivity exceeding $600 billion in U.S. alone.
From his early years as a finance controller in Morning Star, self-management pioneer Doug Kirkpatrick learned two near-universal truths about the working world and employees:
People work best when they are happy and passionate about their work
They produce and innovate on their highest levels when they are not coerced at work, but simply expected to keep the commitments they freely make to their colleagues and their organization.
Companies cannot afford to have people disengaged and hating (or at least not loving) their jobs. Unfortunately traditional management doesn't help with that.
A new, twenty-first-century approach to management is needed to galvanise the minds―and hearts―of people giving so much of their lives to organisations.
WORK IS LOVE MADE VISIBLE
Doug Kirkpatrick goes to the root of it asking the fundamental question: "What if people were not coerced at work, but simply expected to keep the commitments they freely make to their colleagues and their organization?".
What if popular business terms such as employee empowerment, people engagement or servant leadership are not enough to solve the massive human, professional and economical value drain of employee disengagement?
From a truly people-first perspective, he believes the only solution to be a new concept of organization explicitly designed for self-management meant as "individuals freely and autonomously performing the traditional functions of management (planning, organising, coordinating, staffing, directing, controlling) guided by principles and without mechanistic hierarchy or arbitrary, unilateral command authority over others.
A place in which, with Kahlil Gibran's words, "work is love made visible."
THE NO-LIMITS ENTERPRISE
This session will offer a pragmatic, actionable journey toward becoming a twenty-first-century enterprise with limitless power for growth.
Its content and interactive discussion will be about using simple principles to create the following magic:
Managing great complexity with simplicity
Breaking bureaucracy to open-up a better future of the workplace
Getting rid of "managing" others in the workplace as an obsolete and, ultimately, self-defeating approach
Creating sustainable and scalable business advantage
Future-proofing the organization for an uncertain and unpredictable market
Engaging the rising generation
Unleashing agility, innovation and leadership everywhere
WHO IS DOUG
Doug Kirkpatrick is the author of the Amazon bestseller Beyond Empowerment: The Age of the Self-Managed Organization, an organizational change consultant, TEDx and keynote speaker, executive coach, writer, and educator.
He recently served on the board for ATD (Association for Talent Development), the world's largest talent development organization with nearly 40,000 members in over 120 countries.
He works with multiple communities including Great Work Cultures, HumanCentric Labs and the Center for Innovative Cultures to co-create the vibrant, self-managed workplaces of the future.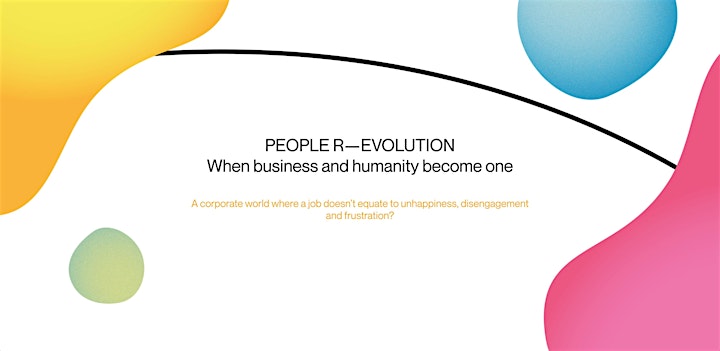 WHERE AND HOW
This digital event will be hosted in ZOOM. You can attend to it from your PC or mobile device.
It will participative and will include:
A conceptual introduction through which our experts will bring us into the topic through principles, frameworks, stories and real life experiences
An interactive section in which participants will be invited to go deeper and question, reflect, discuss about how to apply what they heard to their specific context and needs.
WHO IS THIS FOR
A revolution cannot start in a vacuum. A bridge among languages, backgrounds and needs, is required for the first spark to be generated.
People R-Evolution sessions are meant for those with organizational evolution and a more sustainable impact of business in society at their heart. It is a chance for executives, entrepreneurs, leaders and practitioners to explore new ideas and practices that can be immediately experimented towards a more humane, connected, regenerative future.
This digital event is suitable for:
Senior executives wishing to be inspired and to find answers to the overhaul organisations are going through at the moment
Managers in search for a path of growth in the value and recognition within their company
Professionals, members, practitioners looking for meaning through fresh, experimental practices and real life stories that could open alternative ways of working
Changemakers or troublemakers willing to plug into a global network and to breath the emerging world views so vital for action
HOW TO PARTICIPATE
This event has free access through registration from this page